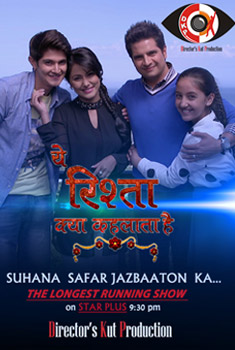 STORY
YEH RISHTA KYA KEHLATA HAI is an Indian television drama which premiered in January 2009 on Star Plus . YRKKH seeks to build the concept of love within the traditional setting of an arranged marriage. It creates a quintessential contrast to the world around us where marriages, once considered sacrosanct in our society, are losing their sanctity and turning into relationships of convenience. The story revolves around Akshara, a shy, demure, obedient daughter who has been brought up like a princess in a traditional Marwari family. She has a very protective upbringing and has only experienced relationships that emanate love and protection.
The story is her journey from being the ideal daughter to a person striving hard to understand her new situation, to ultimately move towards falling in love with her husband.
Yeh Rishta Kya Kehlata Hai is a saga of an adolescent heart transforming into a mature one with desires and hopes that are in tune with her new life.